---

The second largest Southeast Asian refugee group in the United States is the Hmong from Laos. An independent, self-sufficient people with a rich culture based on clan and kinship, the Hmong migrated into Laos and neighboring countries from China, their original homeland, in the early 19th century. The transition from living in remote mountain villages, practicing slash and burn agriculture to industrialized American life has not been easy. Although the first generation of adult refugees was largely lacking in formal education, Hmong families realize that the way to success is through education, as seen in their children's high rate of college attendance. In 1990, 32% of Hmong aged 19-24 were enrolled in college; this compares favorably with the 39% college enrollment rate of white Americans.
---
67. The Hmong National College Yearbook, 1994-95. Providence, Rhode Island:
S. Mouacheupao, 1995.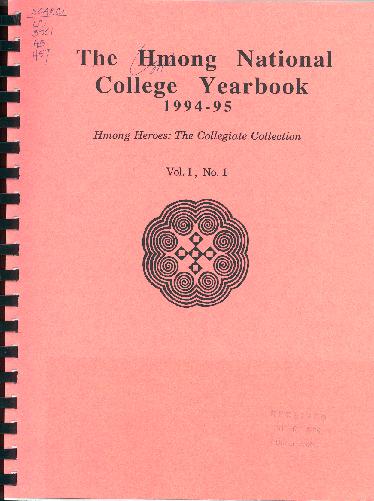 68. "Letter from the editor." By Steven S. Mouacheupao. In: The Hmong National College Yearbook, 1995-96.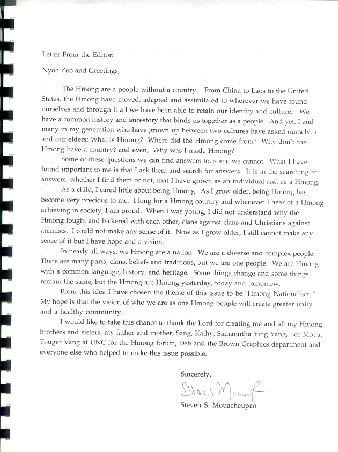 69. "Class of 1998." In: The Hmong National College Yearbook, 1995-96.
70. Story Cloth. Winter 1994. Davis, Calif.: UC Davis Hmong Student Union. Donated by Paokong Chang.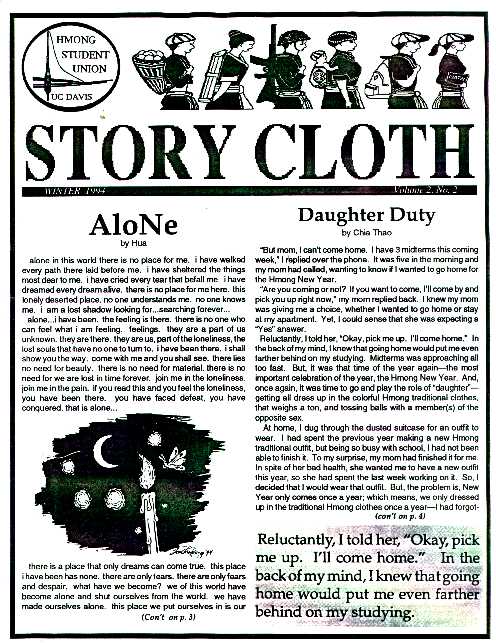 71. Niam Nkauj Ntsuab Xyoo 1993, Miss Hmong USA. Program for the Hmong National New Year celebration, 1992-1993. Organized and sponsored by Lao Veterans of America, Inc., Fresno, Calif. Donated by Paokong Chang.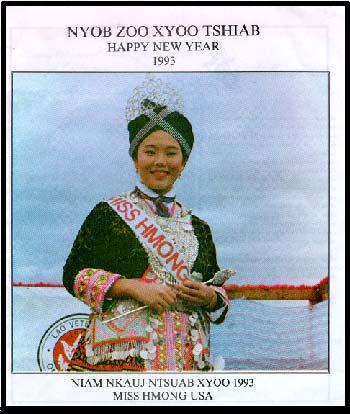 72. "Social activities of the New Year." In: Traditions of the New Year: Lao Family Community of Sacramento New Year celebration. Sacramento: Lao Family Community, Inc., 1985. Donated by Dr. Van Le.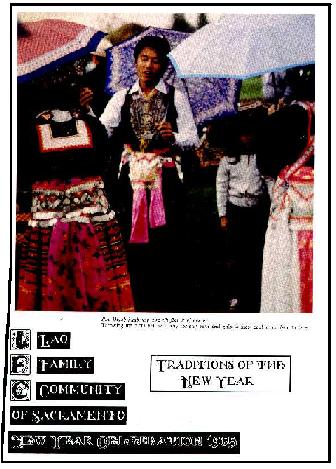 73. "My wondering life." By Schwa X. Yang. In: Passages: An Anthology of Southeast Asian Refugee Experience, compiled by Katsuyo K. Howard. Fresno: Southeast Asian Student Services, California State University, Fresno, 1990.
74. The Hmong in Fresno: A Study of Hmong Welfare Participation and Self-Sufficiency. By Kou Yang. Ed.D. dissertation, UC Davis, 1995







http://previous.lib.uci.edu/
seaexh/
Copyright 1999,
University of California


UCI Southeast Asian Archive
P.O. Box 19557
Irvine, CA 92623-9557
(949) 824-4968